Walk 10 to 30 miles of Hudson River vistas!
FREE walking event
Walk 10 to 30 miles of Hudson River vistas! FREE walking event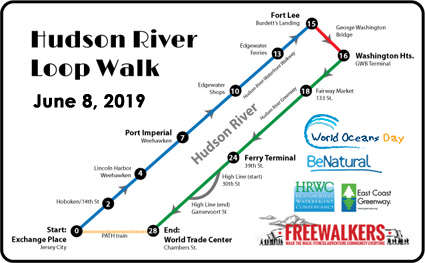 Get moving! Be a part of our most popular event of the year.  Cross the grand George Washington Bridge on foot.  Visit the location where Alexander Hamilton dueled with Aaron Burr.  Enjoy a day of sweeping vistas along the river on a pedestrian-friendly route while we support the preservation of our natural resources.
We'll Celebrate and Participate in World Ocean's Day
This year help us celebrate World Ocean's Day with BeNatural an annual awareness and celebration of our valuable water resources around the world. While many are celebrating in different venues around the world, we will participate in World Oceans Day NJ/NYC to honor the ocean, which connects us all. We'll have special activities such as "plogging" (picking up refuse) along the way, creating human formations and learning more about how we can share and protect our ocean. 
Donation that day, including a special commemorative blue t-shirt, will help support Big Blue Ocean Cleanup and Inland Ocean Coalition,

Join with us and our event organizer, BeNatural, dedicated to reducing waste that ends up in our waters by reducing the use of plastics and keeping our waters clean.
Our 7th annual Hudson River Loop Walk is a one-day 30-mile walk along the Hudson bordering NYC and NJ.  We start at the PATH station at Exchange Place in Jersey City and continue north along a nearly continuous Hudson River Waterfront Walkway on the Jersey side to the George Washington Bridge.  After the spectacular trip across the bridge, we connect to the Hudson River Greenway trail, head south and end at the World Trade Center. The ferry returns you to Exchange Place, where you can sit riverside in the relaxed outdoor atmosphere of our post-event party at Piggyback Bar in Jersey City.
In the event you are unable to finish, You can take advantage of the Light Rail on the Jersey side and the MTA Broadway-Seventh Avenue local (#1 train) always nearby during the second half of the walk.
If you are not ready to tackle a 30-mile journey, take advantage of the NY Waterway ferry service.  With departures every twenty minutes, NY Waterway provides a pleasant journey from Port Imperial/Weehawken to Pier 78 in Manhattan during the Hudson River Loop Walk for those walkers wishing to complete the shorter ten mile loop.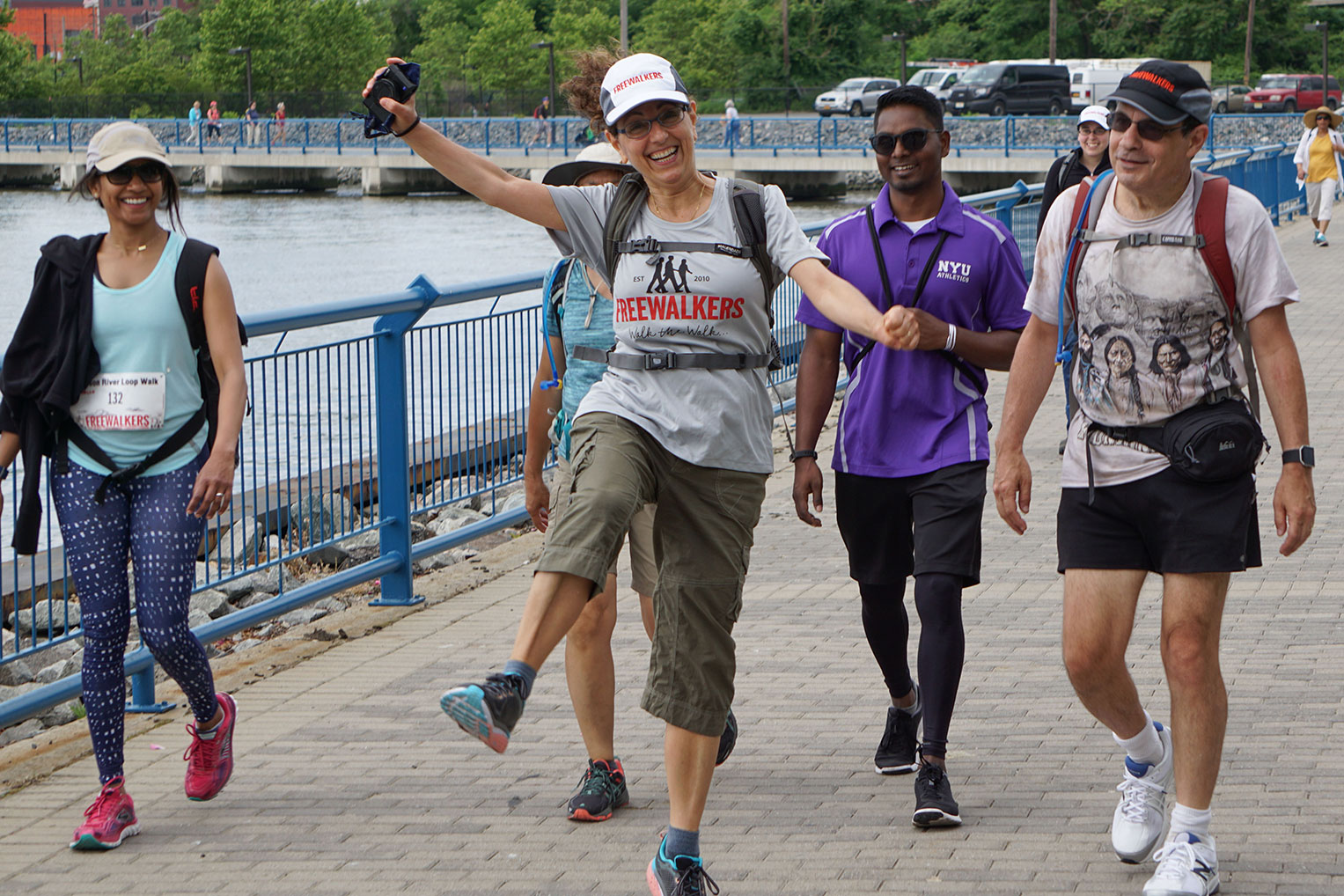 Thanks to the progress on the Hudson River Waterfront Walkway on the Jersey side and the well-established Hudson River Greenway on the New York side, we will enjoy a route friendly to pedestrians and cyclists, and complete a loop with virtually no interaction with traffic and just a few streets to cross.
OFFICIAL START is 8 a.m. Due to a large anticipated crowd, check-in, orientation, and free coffee and donuts, we advise you to arrive between 7 and 7:30.  Raffle prizes will be drawn at 7:45, and you must be present to win.

There's an optional short detour up the palisaides to Weehawkin to view the spot where Alexander Hamilton died in a duel with Aron Burr. The walk will also introduce to you the edgy architecture of Burdett's Landing, the roadside nests of Edgewater parrots, views from the George Washington Bridge, the Little Red Lighthouse, Manhattan's many riverside sculptures, the famous High Line elevated walkway, and many other curiosities.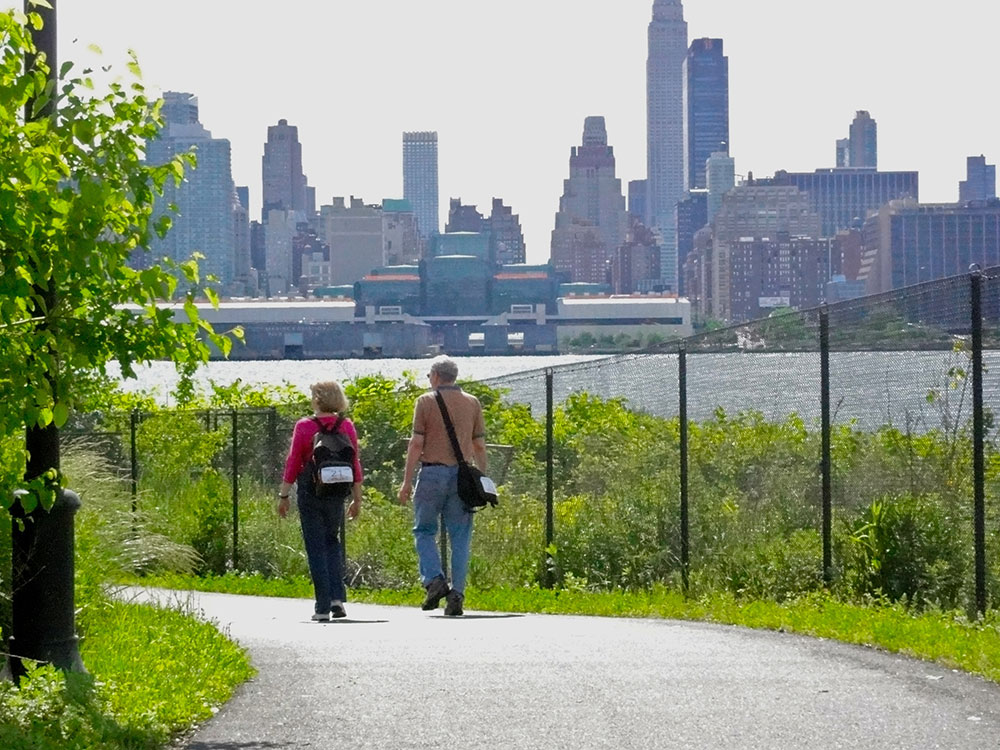 This walk is organized by FreeWalkers.org and supported by the Hudson River Walkway Conservancy, East Coast Greenway Alliance and Benatural.
Click here for Hudson River Waterway Walking Directions (NJ side)
Bring your friends and family to a memorable walk with many spectacular views.  This is among the most highly rated walks in the region and always draws a big crowd.
Learn how your organization can help and be part of our effort. Join our cleanup effort.
Join our growing list of sponsors. (Contact Berna Tural @ 732-500-5899 for more information):