For subway riders for Saturday's Walk - there is construction on the subway line. Please note the following:
IMPORTANT CURRENT INFO: 1 trains going uptown are skipping 231st St on the day of the walk.  Take the train to 242nd St (last stop), and transfer to a 1 train going back downtown (same platform).   231st St is the second stop.  This will add a few minutes to the trip.  
---
Back by popular demand, a Bronx walking tale. Dip your feet in the Hudson and the Sound in the same day on the same walk. Your reward is drinks and lunch on City Island. FREE and open to everyone.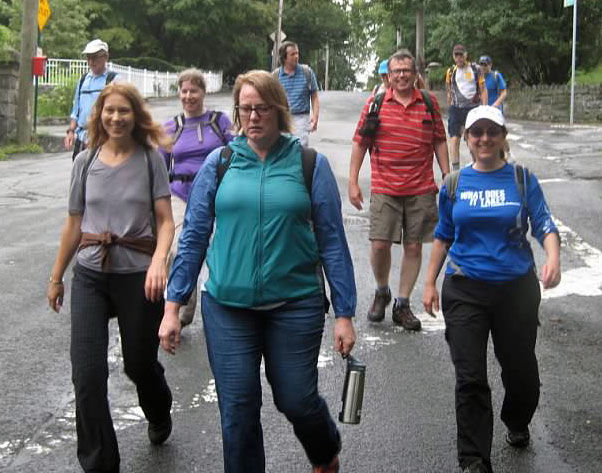 This 18-mile walk starts at the NW corner of Broadway and West 231st St at the W 231st St. stop of the #1 Train at 9:00. We will then head west towards the Hudson River and walk along a rural road that's the westernmost avenue closest to the river. Near the river we pass one of the Kennedy clan's homes and see where JFK spent a few years of his life overlooking the Hudson.
We will go to a tiny, hidden park on the other side of Metro North tracks where you can go right up to the river and dip your hands into it. Then we walk to the northernmost point of NYC and start heading east, including walking through Fieldston, a private neighborhood of mansions.
Along the way we'll pass the Russian Compound, owned by Russia (Or, maybe they have they been thrown out?). We'll make our way to Van Cortland Park and follow the path of the East Coast Greenway. Along the path we'll pass a beautiful lake in the park.
We'll continue on Mosholu Parkway to Bronx Park, walking over the Bronx River. Then we'll make our way to Pelham Parkway, still on the East Coast Greenway, all the way to City Island (called the Seashore of the Bronx) and end at the end of City Island where we can eat and have beer at Johnny's Reef Restaurant, which has been there for at least 70 years!
We'll take a bus to the Pelham Bay stop of the No. 6 train, which you can take back into Manhattan.
Walk leader: Ken Kurland - kenkurland@gmail.com 917-584-5340