Healthy Fun for Everyone!
Join our 2nd Annual Family Event!
The FreeWalkers and Union County Parks have the perfect event for you and your family. It's a FREE Sunday stroll on June 5th along the beautiful trails that grace Echo Lake Park and extend to Lenape Park. This is not a race but a chance to walk a little bit farther than you normally might.
Visit StrollRoll.org to learn more.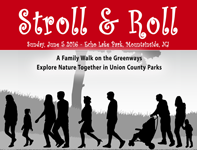 The route is a straight line from the Gazebo at Echo Lake to the bridge in Lenape Park and back. The trail distance we've marked for this event is about two miles. So, you can walk the entire distance and cover up to 4 miles (2 miles to the end and 2 miles back). But, if you prefer, simply walk as far as you want and return. Just walk the minimum distance of one mile and earn a "Super Stroller" achievement certificate.
There will be fun activities for kids, a souvenir passport book to stamp along the way and special gifts for all who participate. It will be a special family-friendly and healthy event. Infants or toddlers in strollers? No problem. They can come along for the ride. Wheelchairs are welcome and encouraged to roll with us too.
How it works:
There will be a rolling start from 9:30 to 10:30 so you can choose to start at anytime between. We ask all families to walk together as a team and to encourage and enjoy each other's company. There will be creative activities along the way as well as educational opportunities.

Enjoy Union County Parks and the East Coast Greenway:
While visiting the area for this event, take advantage of the many features of these popular Union County Parks. The East Coast Greenway, is a 3,000-mile national trail that runs through Nomahegan and Lenape Parks.