A dynamic public servant and a stormy crossroads in American history remembered
(If you plan to attend, register as soon as possible, as attendance may be limited.)
Mark the 50th anniversary of the death of Robert Kennedy, as we tour Washington DC, recall his words and works, visit sites that harken back to turbulent 1968, attend the gravesite mass in Arlington, and journey up the Potomac to the Kennedy home.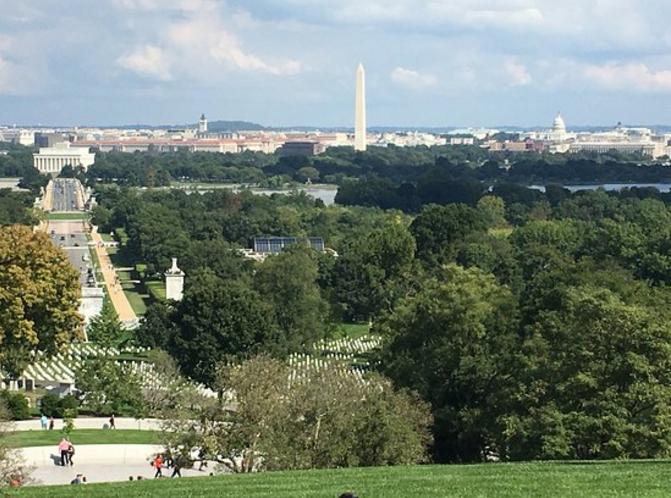 Memorial 10K Walk
Meet us on Columbus Circle, across from Union Station at6:45am. We will venture across the National Mall, around the Tidal Basin, and cross the Potomac, all while passing our capital's greatest landmarks and visiting a few locations tied to Kennedy and the events of 1968.
Robert Francis Kennedy mass
Our morning walk ends in Arlington Cemetery. Join the Kennedy family in honoring the memory of Robert Kennedy, with a musical prelude, memorial service, and remarks by President Clinton.
Afternoon hike
For our more ambitious walkers, we will assemble after the mass in front of the Arlington National Cemetery Welcome Center, perhaps around 11am. We will explore the trails and vistas of Theodore Roosevelt Island, stop off for lunch in Georgetown, follow the C&O Canal along the Potomac, cross the Chain Bridge and visit Hickory Hill, home of Robert Kennedy. We return home via the nearby Metro station.
Schedule
7am: 10K walk
10am: Arlington mass
11am?: 15-mile Potomac walk
Terrain: sidewalks, dirt and gravel trails. Mostly flat.
Highlights:
US Capitol
Supreme Court
Library of Congress
RFK Department of Justice
Ford Theater
Chinatown
White House
Washington Monument
Tidal Basin
Jefferson Memorial
FDR Memorial
MLK Jr Memorial
Jefferson Memorial
FDR Memorial
MLK Jr Memorial
Vietnam Veterans Memorial
Lincoln Memorial
Arlington Cemetery
Theodore Roosevelt Island
Mt Vernon Trail
Francis Scott Key Bridge
Georgetown
C&O Canal
Chain Bridge
Pimmet Run Trail
Hickory Hill